Philly Orchard Projects
Exploration of materials collected from pruning peach, plum, and cherry trees
This season of nature exploration and art experimentation led to plum, peach, and cherry pruning cutting ink, peach pit charcoal printmaking ink, as well as beeswax and peach pit charcoal color blocks.
The ink can be found in the Philadelphia Museum of Art gift shop and many art makers of all ages got the opportunity to create with the orchard inks at community events and workshops in 2022:
+ Philadelphia Orchard Project | Orchard Open House @ Woodlands Learning Orchard | May 14, 2022
+ PHS Flower Show - Family Frolic | Orchard Ink Make & Take w/ Philadelphia Orchard Project | June 2022
+ Food Moxie - Hope Garden @ Stenton Family Manor | Garden Club | June 2022
+ Philadelphia Orchard Project | 15th Anniversary Orchard Celebration | Art in the Orchard | Sept 2022
+ Mt. Airy Learning Tree | Color from Nature Walk + Workshop | October 2022
Indigo in Green: The Peach Tree
The first episode of Indigo in Green is a love letter to the natural colors of the peach tree and captures projects made from the pruning workshop waste including printmaking ink from peach pits, crayons, and peach bark ink. We visit a peach tree at a West Philly community garden, meet maker friends for peach cobbler, and talk about the need for and plan for more trees in Philadelphia.
PHILADELPHIA ORCHARD PROJECT INK: FROM PRUNING TO PIGMENT
This project began with an interest in tending for trees in West Philly. In March 2022, the Philadelphia Orchard Project hosted an orchard pruning workshop at Sankofa Farm at Bartram's Garden led by POP staff and orchard volunteers. After an in-depth review of tools and terms, eager participants representing community gardens and orchards across the city got hands-on training in tree care and pruning.

The workshop offered an opportunity to connect with other tree tenders, urban farmers, and garden enthusiasts in the orchard. I worked on a peach tree and helped to open up the tree for more sun, airflow, and ultimately better fruit production for the growing season. We also removed mummified fruit.

At the end of the workshop, as we said our goodbyes, many bundled up handfuls of peach, plum, and cherry sticks and branches cut during pruning to bring home and enjoy beyond the workshop. The cuttings with buds will flower in water and make brilliant arrangements. I came home and started to experiment with making dye, ink, and later peach pit charcoal for crayons and printmaking ink.

For the recap of the workshop and a how-to guide of how to make peach bark ink, see the full blog post, Philadelphia Orchard Project: PHILADELPHIA ORCHARD PROJECT INK: FROM PRUNING TO PIGMENT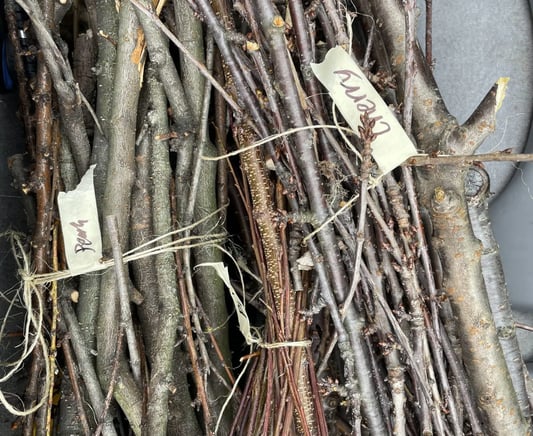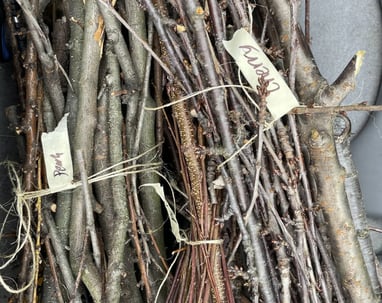 Handcrafted botanical ink created by Ampersand Textile & Design for fine writing and drawing with dip pens and brushes. This small batch was made from bark collected after pruning peach trees with the Philly Orchard Project at the Sankofa Community Farm at Bartram's Garden.
Philly Orchard Ink in 2oz bottles available at The Philadelphia Museum of Art Store:

+ Cherry
+ Peach
+ Plum (sold out)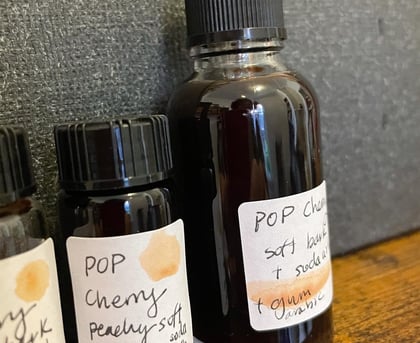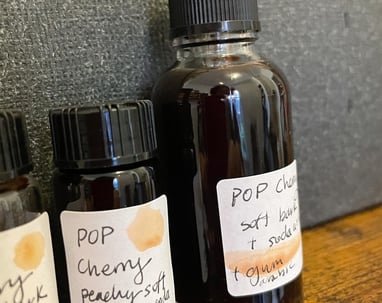 Peach pit charcoal & beeswax color block
Peach pit charcoal & beeswax color blocks for nature rubbings and collecting textures found around the neighborhood.
Made from the pits of the fruit we ate all summer and mummified peaches removed at the March 2022 POP pruning workshop.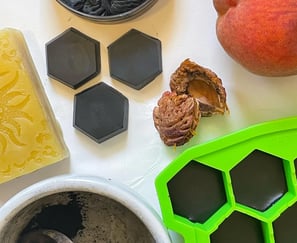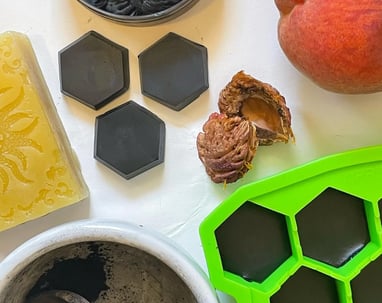 For the Peach Tree episode of Indigo in Green, we explored using peach pits with sap from a fallen tree as the binder.

Make your own botanical inks at an upcoming workshop:

Pennypack Park _ Friday April 14th: Registration
Philadelphia Museum of Art - Friday, April 28: Register now


Watch Will it Ink? - Project Video